2022 Values in Action Annual Award Winner
Published Jan. 27, 2023
North Central Kansas Medical Center today announced Rose Koerber as the Values in Action Award Winner for 2022. The Values in Action Award is given to employees who have demonstrated extraordinary behavior, exemplifying any of the organization's core values of patient centered, quality, trust, integrity and sustainability. Employees are nominated by other employees and a quarterly winner is announced. The NCKMC team has chosen Rose, Director of Social Services, as the overall 2022 winner for her continued focus on patient care.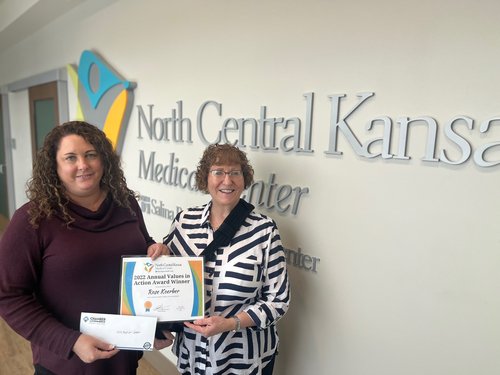 "Rose is a trusted, compassionate advocate for patients," said Dave Garnas, NCKMC Administrator. "Rose is truly a servant leader, and we are pleased to award her with the 2022 Values in Action Award."
Rose has been awarded a certificate for her award along with $500 in chamber bucks.