North Central Kansas Medical Center Now Offers Hydrotherapy
Published Jan. 19, 2023
North Central Kansas Medical Center (NCKMC) opened in November 2022 and expanded services to include hydrotherapy. NCKMC has been providing this rehabilitation therapy in its new hydrotherapy suite, which includes two private changing rooms and a restroom.
The HydroWorx pool is a zero-entry pool that lowers into the water and features an underwater treadmill. HydroWorx products are used by top healthcare and sports facilities worldwide. Their patented underwater treadmill takes advantage of the body's buoyancy in water by eliminating between 20-90% of an individual's body weight. For example, in collarbone-deep water, a 200-pound subject will bear only 20 pounds while in the aquatic therapy pool. This, in conjunction with therapeutic warm water, allows for substantially decreased joint compression and pain. Hydrostatic pressure promotes the healing and strengthening of injured tissue by reducing joint stiffness, decreasing swelling, and lowering blood pressure levels. Cardiovascular stamina, muscle toning, and flexibility are augmented by the resistance that water provides.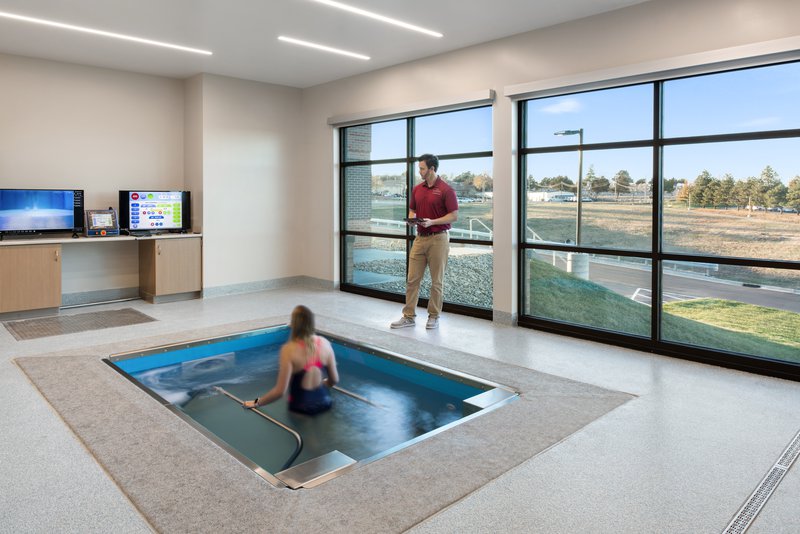 "Our staff has enjoyed providing this new mode of recovery to our patients, and our patients love using the pool," said Tyler Deutscher, Director of Rehabilitation. "We are seeing more back pain patients. The hydrostatic pressure of water feels good and the buoyancy makes it easier for people to move freely."
To schedule an appointment, contact the rehabilitation department at 785-243-8514.