Nursing Services
Emergency Department
Monitored Beds
Medical / Surgical Acute Care
Skilled Nursing Care
Outpatient Services
Wound Care
Surgery Care
NCKMC nursing staff provides 24 hour compassionate, quality nursing care for our patients of all ages. Our team of Registered Nurses, Licensed Practical Nurses and Certified Nurse Aides work together to provide physical, psychological, emotional and spiritual care to our patients and their families. The nursing staff is the core of the healthcare team on our Acute Care and Skilled care units and staffs the Emergency Room 24 hours a day.
The Acute Care nursing team works alongside our physicians, respiratory therapists, pharmacy, radiology technologists, clinical laboratory technicians and rehabilitation personnel to provide patient centered care. The nursing staff provides medications, monitors the patient's physical state, and provides hands on care. Nurses also provide education for patients and caregivers so they may better care for themselves at home.
Patients admitted to Skilled Care at NCKMed receive care from an interdisciplinary team of caregivers that can include nursing, physical therapy, occupational therapy, speech therapy and respiratory therapy. Patients in Skilled Care also participate in activities provided by an activity aide.
The nursing staff at NCKMed pursues and maintains specialized certifications which enable us to care for you and your loved ones to the best of our ability.
NCKMed offers a variety of American Heart Association Courses taught by our own experienced, skilled staff. For more information regarding these courses, please visit our Education Page.
Nursing Services Staff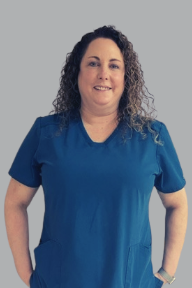 Della Strait, Director of Nursing
Della Strait, Director of Nursing -
Della earned her Associates Degree in Nursing from Cloud County Community College and a Bachelors of Science in Nursing from Kansas Wesleyan. She received her Masters in Nursing Informatics with a Minor in Nursing Education from the University of Kansas. She additionally earned a Masters of Business Administration from Columbia Southern University. Della has spent her career working in rural facilities including acute care, long term care and rural health clinics. She was a Nursing Faculty at Cloud County Community College for ten years where she implemented and taught in the first simulation lab on the campus. She started working at Cloud County Health Center in 2006 in inpatient, ICU, outpatient, ER, and labor & delivery. She was the ER Coordinator from 2016-2017 and was named the Director of Nursing in June, 2017. Della is a member of the Kansas Organization of Nurse Leaders, Emergency Nurses Association and serves on the CCCC nursing advisory board.